7 Health Books You Just Have to Read ...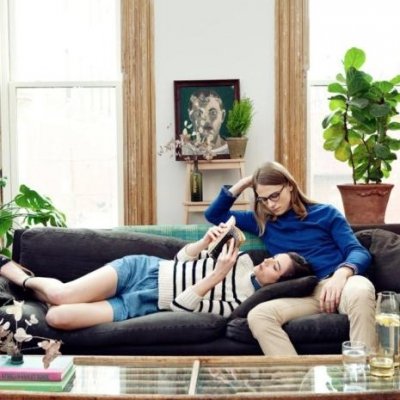 Health books are some of my favorite types of books to read. As a health nut and foodie at heart, I've always found it fascinating to learn how food acts as messengers to all parts of our bodies and can affect everything from the way we think to our weight. I have at least 30-40 health books I love and recommend to everyone, but these 7 below are some of my latest favorites that I've found to be the most useful and helpful to me and others. Check them out and let me know if you have a few favorites of your own!
amazon.com
The Lean by Kathy Freston is one of the best health books you'll ever read.. But not to worry - this isn't just another diet book. It's the simplest book you'll ever read to teach you how to achieve a healthy lifestyle through small daily tasks that lead up to weight loss over a 30 day span. Trust me - anyone can do this diet and everyone can benefit from the health information in this book. As a nutritionist, I even learned a few things myself! Freston is a wellness expert and author and vegan advocacy powerhouse.
amazon.com
Veganist by Kathy Freston is another book I recommend you read as soon as you get a chance. It's a powerful book about the benefits of a plant-based diet that's written in a non-judgemental, easy-to-read format. If you have images of Freston pointing fingers at every meat eater out there, think again. Freston is a gentle spirit with a forceful passion for a vegan diet who shows you research-packed reasons to choose a vegan diet for optimal weight loss and a sustainable lifestyle. You'll find recipes, tips, shopping lists, research studies, and a background of Freston's own health and how she came to find the vegan lifestyle.
amazon.com
For anyone going through depression, who suffers from anxiety, or who has a history with an eating disorder, The Mood Cure by Julia Ross, M.A., is for you. Ross is one of my favorite authors for delivering medical based evidence for how foods work in the body and change neurotransmitter functions. I was amazed the first time I read this book and my health turned around almost instantly after putting Ross's suggestions into practice. Ross is also bestselling author of The Diet Cure, another popular book similar to Mood Cure.
amazon.com
Gena Hamshaw is the popular vegan blogger and writer of the blog, Choosing Raw, established in 2008. She has now written her first book, Choosing Raw: Making Raw Foods a Part of the Way You Eat. Hamshaw is the absolute perfect person to follow if you're interested in vegan and/or raw foods but have no idea where to start. It's a comprehensive wellness, recipe, and nutrition book all in one lovely, delicious read.
amazon.com
Dr. Joel Fuhrman is a board certified family physician and best-selling author. He's written seven books to date, three of which are New York Times best sellers, including his most popular book, Eat to Live, which promotes a plant-based diet. Eat for Health continues that premise and teaches you how to eat to fight cravings by consuming whole, plant-based foods. I highly recommend this book if you struggle with eating junk food, processed foods, too many sweets, or have an overall unhealthy relationship with food.
amazon.com
The China Study, which was written in 2006 by Dr. T Colin Campbell, is one of the most popular health books of all time. It's the most comprehensive research study to date on how diet affects disease in the USA. Campbell didn't set out the study with any idea that he would discover a plant-based diet to be the answer to most all common health issues, including Type 2 diabetes, cancer, and obesity, yet what he discovered was exactly that. If you haven't already read this book, definitely check it out. It will change your life and the way you think about food and health forever.
amazon.com
The Yoga Body Diet, written by Kristen Schultz Dollard and John Douillard, is a book I recommend every single woman out there read. It's simply a must if you're looking to get more in touch with your body, discover delicious foods that are best fit for you, and learn about the benefits of yoga. I love the fun, fresh approach in this book and that it gives you specific quizzes to show you what foods work best for you and which ones don't. Definitely give this a read if you're interested in optimizing your weight, energy, digestion, and mood.
These are some of my favorite health books but I'd love to hear some that you've found especially inspiring too. What's your favorite health book?
{{#comments_count}} Show Commnents ({{comments_count}}) {{/comments_count}}