9 Literary Festivals for Book Lovers Everywhere ...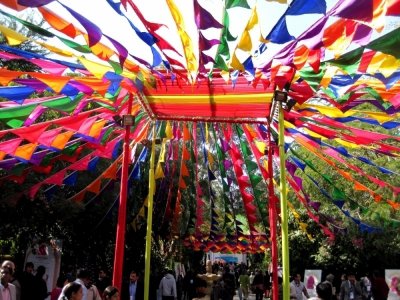 If you love reading, are a writer or just enjoy a good day out, there are some fabulous literary festivals around the world that are far more interesting and exciting than you might imagine them to be. Pandering to our cravings to be entertained, literary festivals are packed with not just everything to do with literature but an explosion of sensory delights. With fun for all ages, you might want to think about attending one of the very many (hundreds) of literary festivals around the world.
Tiny but gorgeous, Hay-on-Wye in Wales doesn't exactly spring to mind as the setting for one of the biggest literary festivals in the world. For 10 days in May and June, poets, novelists, scientists and just about everyone else come to visit this part of Wales to talk about books. It's been referred to as 'The Woodstock of the Mind' by former US president Bill Clinton. Enjoy film screenings, talks, performances and more this summer.
2.

The Jaipur Literature Festival
India's pink city plays host to a festival of literature every January, set among ancient buildings and exotic gardens. It's grown from 14 attendees in 2004 to 250,000 in 2014. In just 10 years, it's hosted everyone from Jaipur's royal family to humble rickshaw drivers. Notable attendees include the winner of the Pulitzer Prize Jhumpa Lahiri, Chinese writer Guo Xiaolu and author Reza Aslan. You missed this year's but stick it in your diary for January 2015.
3.

Shanghai International Literary Festival
The M on the Bund restaurant in Beijing, China, has hosted this literature festival in March since 2003. As the sister to the Hong Kong International Literary Festival, this is an intimate festival with a maximum attendance rate of 4,000. Last year, Eleanor Catton, the youngest recipient of the Man Booker Prize, made an appearance. It's developed a history for attracting the short-listed candidates for the world's major literature prizes.
4.

Reykjavik International Literary Festival
Despite its small population, practically everybody in Iceland reads books. As well as enjoying Iceland's spectacular landscape, now you can indulge in their passion for books. This is one of the most popular literary festivals for travelers and takes place in September. Starting in 1985 as a poetry festival, it's quickly expanded to include evening readings, panel discussions with international authors and themed artwork.
5.

Banff Mountain Book Festival
The Banff Mountain Book Festival has to be one of the most picturesque literary festivals in the world. This town of 7,000 people in Alberta's world famous Banff National Park launches its book festival each October and November. It's also a ski resort and it hosts a film festival, so there's no shortage of art and culture here. As well as the readings and the speakers, it's also the location for where a number of awards are handed out, including the Grand Prize of Canada.
6.

PEN World Voices Festival of International Literature
New York City had to appear on this list. As a major cultural hub of the world, this festival of literature draws a star-studded crowd of authors every year. Every April, the Big Apple uses this festival to promote great literature and free expression across the world. Visitors are treated to everything from live readings to panel discussions with their favorite authors.
We're not too sure about how appropriate the name of this literary event is. San Francisco has always played host to literary tradition and this legacy continues with this exciting festival. It lasts for a week in October and aims to promote the local literary scene, as well as writers throughout California.
8.

International Festival of Authors
The International Festival of Authors in Toronto takes place on the Harbourfront Center towards the end of October. It's been running for 30 years and it doubles as an awards ceremony. As well as getting to know your favorite authors and one of Canada's most prominent cities, you'll get to see who wins the prestigious Giller Prize.
9.

Williamstown Literary Festival
All of the major Australian cities host literary festivals but as the cultural trendsetter of the country, Melbourne plays host to some of the biggest and most well renowned. You can attend the larger Melbourne Writers Festival in August, or in May/June head to the western suburbs to Williamstown Town Hall, for all things literature. There are prizes up for grabs, loads of workshops and a children's program of events.
I have picked out literary festivals all around the world but seriously ladies, there are so many of them that there should be one near to you. Wikipedia has a really good listing of them here: en.wikipedia.org. Why not find your local one and plan a visit?
{{#comments_count}} Show Commnents ({{comments_count}}) {{/comments_count}}