9 Brilliant Examples of the London Book Benches ...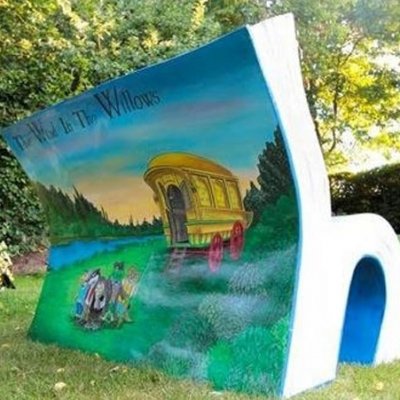 If you're coming to the capital this summer, you'll be able to see its latest attraction – the London Book Benches. From July 1 through to October 7 2014, when your feet are weary from seeing all the fabulous sights, you can park your bottom on any of 50 fabulous creations that have been situated all over the city. Launched by the National Literacy Trust to celebrate reading, as part of the Books about Town campaign, each of the London Book Benches has been created to represent a book, series of book, or an author or character. Fantastically creative and simply stunning, the London Book Benches will be auctioned off in October, so come on over and sit on one while you can.
1.

How to Train Your Dragon
Ace timing considering that the sequel of How to Train Your Dragon is in cinemas this summer! This fabulous bench is actually the work of Cressida Cowell who wrote the book series AND illustrated them herself, so her skills were already well-honed before she accepted the commission for the dragon bench. This is sure to be one of the star London Book Benches.
Because it is such a recognizable and much beloved film franchise, it's easy to forget that James Bond actually started as a literary character created by Ian Fleming. The Bond bench just shouts so many features that we love about the world's favorite secret agent and if you look carefully you'll spot the bow tie in the middle of the crest.
The London Book Benches aren't just celebrating British literary heroes and characters. We know good authors over here so Dr. Seuss is honored with a colorful seat featuring some of his famous characters. How many can you name?
This rather subdued but very beautiful bench is representing War Horse, the fantastically successful novel by former Children's Laureate Michael Morpurgo. It's so fitting that it is included in the collection as July 2014 is the 100th anniversary of the start of World War I.
Shakespeare had to be an absolute shoe in for one of the London Book Benches didn't he? He's in there among the great writers Charles Dickens, Oscar Wilde and Jane Austen. The bench depicts a portrait and stylized pictures of well known landmarks and buildings, including his very own Globe Theater.
How eye-catching is this one? Based on the world's most famous dystopian novel, you really could feel as bewildered as Wilbur Smith and get lost in this highly colored depiction of 1984.
One of the best selling series of books of recent times, our favorite neurotic girl about town is perched on her very own sofa on her very own bench. With little vignettes of things we all associate with Bridget, we should be lucky she's pictured wearing her PJs and not her big pants.
I know you wordsmiths – or should I say lexicographers - out there are going on love this one. Marked up with great words and cute illustrations, it is entitled Wild Words and is dedicated to the man who is credited with compiling the first English dictionary.
We've had the world's favorite secret agent, so we should have the world's greatest detective too – although Hercule Poirot might argue the toss on that – but he and his author, Agatha Christie is represented too. Sherlock's bench sadly doesn't include a picture of Benedict Cumberbatch but it's still a fitting tribute to Sir Arthur Conan Doyle's masterful creation.
The benches include children's authors, adult writers, diarists, humorists, almanacs and significant scientific words like those of Charles Darwin and Stephen Hawking. And no before you ask, there's not a Harry potter bench! The London Book Benches are a fabulous addition to the capital's attractions and btw, they are just as stunningly decorated on the back as on the front. The full list is here tressugar.com. Who was left out that you think should have been included?
{{#comments_count}} Show Commnents ({{comments_count}}) {{/comments_count}}