7 Super Magazines to Boost Your Spirits ...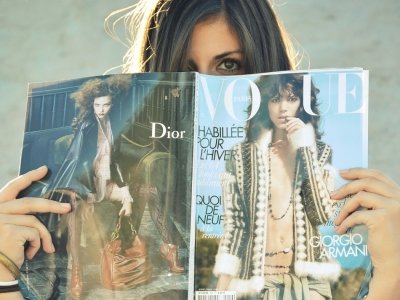 When you need to boost your spirit, a good book is always a good bet. In our busy days, however, sometimes we just need a quick fix. Something to remind us that life does have blooming rose gardens in the middle of harsh winters (somewhere), that we do have gorgeous couture in our house (on the pages of a zine), and that a luscious dinner is ours for the making (if we follow the recipe correctly). These magazines to boost your spirit will make you smile, think, and breathe a little easier.
Have you had withdrawal from Oprah since she left your living room TV on a daily basis? Do you miss her insights, grandiosity at times, and spiritual contemplations? Reading O Magazine is almost as if you can hear her wonderfully rich (in many senses of the word) voice imparting her expertise, curiosity, generosity, and warmth on you once again. Not to mention, the articles are well written by experts in their fields, and the photography is breathtaking to surely boost your spirit!
For those Walter Mitty moments of life, there is a magazine to present us with the homes in which we were meant to live. Architectural Digest is the rock star of home magazines. Its stories by renowned architects, interior designers, and also celebrities make this mag a cerebral coffee break. If you appreciate gorgeous architecture, beautiful locales, and imagery of the word and photo, check out this beautiful magazine to lift your spirit.
This is a magazine that reinforces you can make the perfect brownies, organize your life, and decorate it beautifully practically by the time you've flipped to the last page. This affordable magazine is a testament to the hard-working and multi-faceted nature of women. Well-organized and inviting, this magazine is an encyclopedia for daily living.
Whether or not you have one, there is just something intrinsically happy about dogs. Flipping through a magazine of photos of romping pups with floppy ears and sloppy jowls, seeing photos of newborn German shepherds as big as full-grown Chihuahuas can only make you smile. For a pick-me-up, pick up this mag!
Do you want to go, but you don't know where, when, or how? Budget Travel with its well-seasoned travel writers will point you in the right direction. Ideas of locales everywhere from around the corner to around the world are covered, with simplistic grace and suggestions.
Have you ever wondered what it would be like if only…? French Vogue is the magazine for you. Filled with cutting edge and elegant couture, sophisticated and sensuous photography, not to mention the luscious language of French, this mag is made for a quiet corner, overstuffed chair, and Edith Piaf playing in the background. Put some dark chocolate on a plate with a demitasse of café, and call it an afternoon daydream out loud!
This is now more of an online magazine. You may still be able to find older print versions at your local library. If they don't have it there, hop online to biography.com and check out the e-version. Great biographies of the famous and infamous are highlighted, from medieval times to yesterday's pop news. Biography is an interesting and fun way to run the gamut of serious to seriously funny.
Magazines are one of those guilty pleasures we all partake in, whether at the doctor's office or in the bathtub. What are some of your favorite magazines?
{{#comments_count}} Show Commnents ({{comments_count}}) {{/comments_count}}