7 Great Shakespeare Plays That I Love ...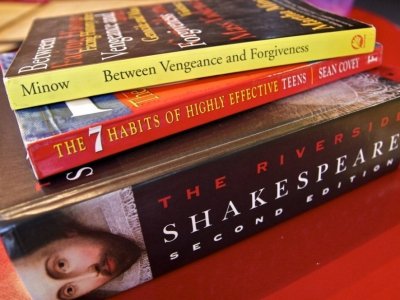 My high school teachers did an incredible job showing us great Shakespeare plays and learning to love them. I've always been a fan of literature from "The Odyssey" to the Harry Potter series. Little did I know how much appreciation I would gain for, what many consider, one of the greatest writers of all time. These are some great Shakespeare plays I loved so much I wanted to share!
This Denmark-based work tops the list of great Shakespeare plays! Upon Prince Hamlet's father's death, his brother takes the throne and marries his late brother's wife. Hamlet uses his wits to act insane before getting revenge per the instructions of his ghostly father. It's brilliant! What's more, it has inspired other works such as Disney's The Lion King. If you haven't read this classic, you are missing out!
What would you do for power? Kill? In this play, Macbeth along with his wife Lady Macbeth, find themselves roped into a plot for power. Having killed King Duncan, Macbeth takes the throne and begins to rule. But will the three witches' prophecy come true? That "no man born of woman" can harm him. You'll have to read it to find out!
Henry V is one of Shakespeare's historical plays that tells the life of Henry V during the 100 Years War against France. It presents motifs such as war as a game which is still used to this day. In fact, there is a good deal of Henry V in today's culture. The line "we few, we happy few, we band of brothers" inspired the name for the TV show Band Of Brothers. But the most commanding aspect of Henry V was that he fought alongside his men and instilled with them the hope that they weren't doing it alone. Talk about being an inspiring leader!
4.

Much Ado about Nothing
We read this play my senior year in high school and I found it both whimsical and entertaining. It's unlike other Shakespeare plays in the sense that it is light-hearted and fun-spirited. It is full of pranks such as the subtle set-up of Benedick and Beatrice who both have sworn off love, yet alone with the other. Hero, meanwhile, is set-up in a different way: as impure. What other shenanigans could happen? Well, read it to see!
If you've ever seen the movie She's the Man with Amanda Bynes, then you've already got the basic plot for Shakespeare's Twelfth Night. Ship-wrecked Viola disguises herself as a man named Cesario to work at a mansion. The houses mistress Olivia beings to fall for Cesario who is really Viola. But what happens when her twin brother Sebastian shows up to throw a monkey-wrench into the situation? Even more, the famous line "if music be the food of love play on" can be found in this work. It's great story and I recommend you check it out. Plus, Helena Bonham Carter plays Olivia in the movie adaptation.
6.

The Taming of the Shrew
If you love comedy, then this play is for you! Baptista Minola faces a tough challenge when suitor after suitor comes to ask his daughter Bianca's hand in marriage: his first daughter isn't married. The problem is that Kate is a shrew that no one wants to be with. But Baptista Minola can't marry his youngest before his eldest, so what else is he to do apart from sitting and waiting for someone to woo Kate? Enter Petruchio. Follow this family's story as one father tries to marry his two daughters and the events that unfold as a result.
We've known his name since the Roman Empire but Shakespeare brings the famous Empire to life in his play Julius Caesar. One part that stood out to me was Marcus Crassus' speech on ambition. "Greed is but a word jealous men inflict upon the ambitious." Wow. This historical play is a must-read!
Shakespeare was an incredible writer and definitely earns his spot as one of the greatest writers of all time. These are just a few plays that I love. What works do you like? Any favorite characters?
{{#comments_count}} Show Commnents ({{comments_count}}) {{/comments_count}}